Over the past couple of decades he's written many short horror stories. Many of those stories were collected in the book A PASSAGE IN BLACK from Omaha Bound. That book contains some of his earliest work. Now Cullen is announcing that his love of horror comic anthologies and his love of horror short fiction is coming together like peanut butter and jelly! In just a couple of weeks, he will be launching a Kickstarter for CULLEN BUNN PRESENTS: A PASSAGE IN BLACK! This book will feature comic book adaptations of some of his short horror stories from the prose collection. He has brought together an amazing group of writers and artists to bring these stories to life:
Cindy Bunn and Baldemar Rivas – "Why Sing the Sirens"
Kevin Watkins and Adam McLaughlin – "School for the Dead"
Anton Kromoff and Bob Freeman – "Dance, Dance, Upon the Night of the Ball"
Heath Amodio and Daniele Sera – "Last Night of the Fair"
Josh Roberts and David Moscati – "Feast of Crows"
JimmyZ Johnston and Isaac Crawford – "Piasa Dreams"
Jeff Lawler and Fran Strukan – "Still Waters"
AE Steuve and Arjuna Susini – "For Her Love"
Sonica Ellis and Rowan MacColl – "Someday Dolls"
Tim Mayer – "A Passage in Black"
Cullen himself working with Marcos Marz on something new!
Special appearances by Blacky Shepherd!
A logo designed by the Kucharek Brothers!
Omaha Bound is once again helping with the design and printing of the project. The aim with
this book is to represent amazing talent that readers might not be familiar with. According to Cullen they took the prose stories and ran with them. They made them their own and did something special with them.
What's even more exciting is that should the Kickstarter (launching around the first of October) be successful, the plan is to make this an annual project. The next volume, though, would feature all new stories by the various collaborators (and Cullen). This is a way that Cullen has found to contribute to the legacy of horror anthology comics. CULLEN BUNN PRESENTS A PASSAGE IN BLACK is Cullen's Creepy/Eerie. All the stories are written. All the art should be complete by the end of September. Stay tuned for the official launch-day announcement!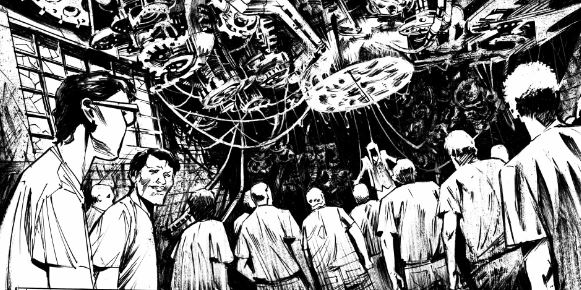 From 'For Her Love'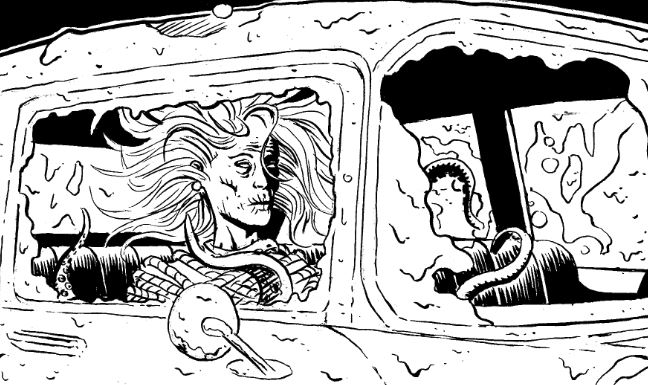 From 'Still Waters'
From 'Someday Dolls'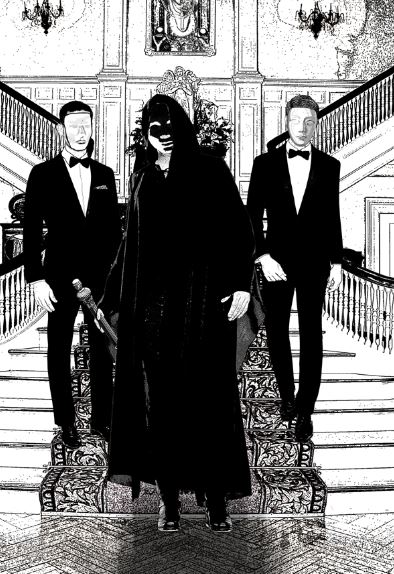 From 'Dance, Dance Upon the Night of the Ball'